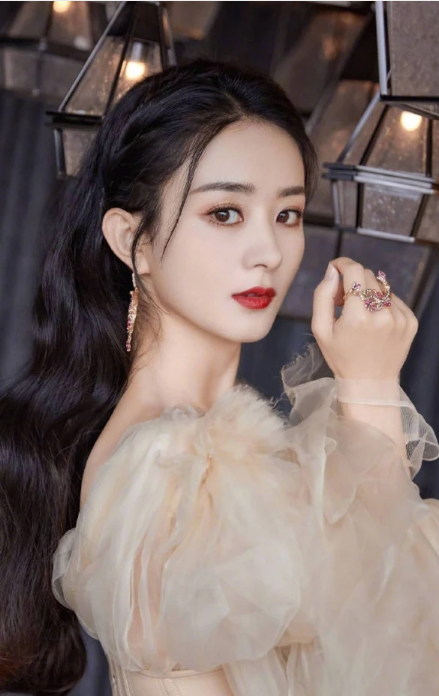 3月31日,演员赵丽颖出席某红毯活动,身穿的礼服引起热议。
On March 31, actor Zhao Liying attended a red carpet event, and the dress she was wearing aroused heated discussion.

赵丽颖身穿的香槟色高定礼服裙,出自国内知名设计师之手,是今晚全场唯一的国货高定!
Zhao Liying's champagne high set dress is made by a well-known designer in China. It's the only domestic high set dress tonight!

复古纱裙设计尽显端庄优雅。泡泡袖的造型和层层叠叠的裙摆,让她看起来如同公主一般,深V设计的衣领大方秀出纤细锁骨。宽大的腰封让她的曲线更显玲珑,乌发红唇映衬得五官尤为精致。
The design of retro gauze skirt shows elegance. The shape of the bubble sleeve and the layered skirt make her look like a princess. The collar of the deep V design shows the delicate clavicle. The wide waistband makes her curves more exquisite, and her features are particularly delicate against her black hair and red lips.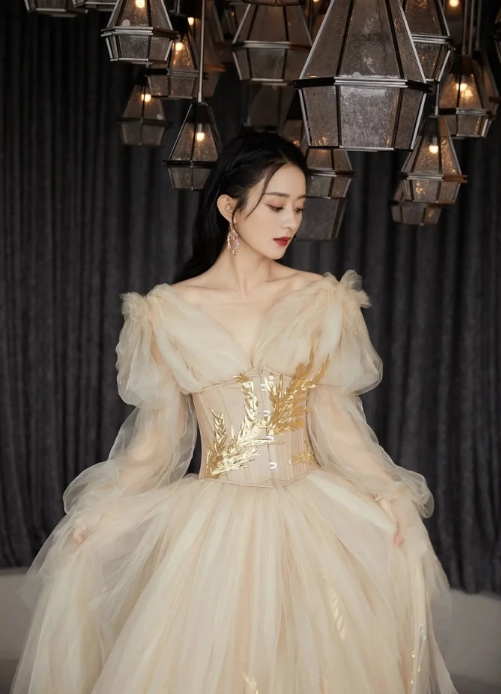 网友看到后也直呼:今日最佳!
Netizens also call directly after seeing: today's best!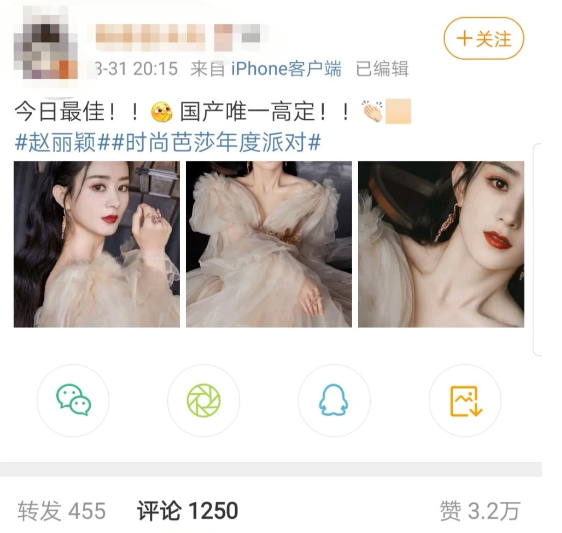 赵丽颖目前正在紧张拍摄献礼剧《理想照耀中国》,她在单元剧中饰演少数民族扶贫干部雷金玉。
Zhao Liying is currently working on a gift drama "the ideal shines in China", in which she plays Lei Jinyu, a poverty alleviation cadre of ethnic minorities.

这个角色的故事是根据真人真事改编而来的,为了帮助少数民族脱贫致富,她付出了无数的心血,值得年轻观众学习。
The story of this character is adapted from the true story of a real person. In order to help the ethnic minorities get rid of poverty and become rich, she has paid countless efforts, which is worth learning from young audiences.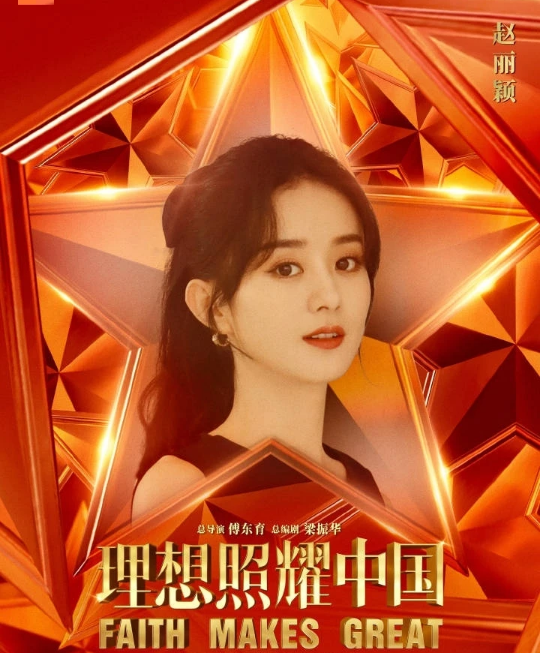 前几天,赵丽颖在社交平台发文,与四名小演员告别。她穿着民族服饰,戴着大大的银耳环,站在四个孩子的身后笑得十分温柔。她还亲切的称呼孩子们为"小可爱",可见在拍戏过程中相处得非常愉快。
A few days ago, Zhao Liying posted an article on the social platform to bid farewell to the four little actors. She was dressed in national costumes, wearing big silver earrings, standing behind the four children, smiling very gently. She also affectionately called the children "cute", which shows that she got along very happily in the process of filming.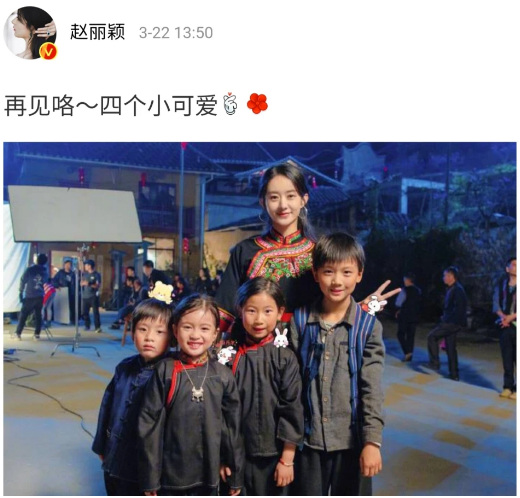 赵丽颖自从复出之后,一直保持着忙碌的工作状态。之前曾有网友曝光了一张她身穿剧中服饰站在街边的路透照片。
Since her comeback, Zhao Liying has been keeping a busy working state. Before that, a netizen exposed a Reuters photo of her standing on the street in her costume.

照片中的赵丽颖身形单薄,几乎瘦成纸片人,看上去就让人心疼。想来为了更加贴合剧中人物形象,赵丽颖也是下了一番苦工。
Zhao Liying in the photo is thin, almost thin into a piece of paper, it looks heartbreaking. In order to better fit the characters in the play, Zhao Liying also worked hard.

现在的赵丽颖人气与实力兼具,颜值也始终在线,是当下不可多得的优秀演员。
Now Zhao Liying has both popularity and strength, and her face value is always online. She is a rare excellent actor.

祝她事业越来越好,也期待她在新剧中的精彩表现。
I wish her a better career and look forward to her wonderful performance in the new play.