蒋勤勤吐槽陈建斌诗集印刷粗糙,错别字太多,实则秀恩爱
Jiang Qinqin Tucao Chen Jianbin's poetry is rough, make complaints about too many characters, but show grace.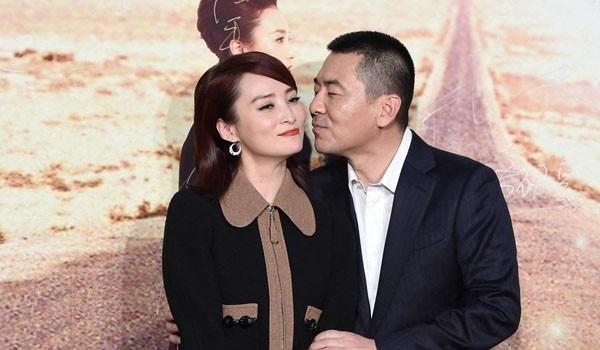 4月2日,蒋勤勤在个人社交平台晒了几张老公陈建斌所作诗集中的几页。蒋勤勤在配文中写道:"陈老师下次找个靠谱的印刷厂吧!建斌诗集随手一翻好多错字!"被妻子在线吐槽自作诗集印刷粗糙,娱乐圈中恐怕也只有陈建斌一人了。
On April 2, Jiang Qinqin published several pages of her husband Chen Jianbin's poetry collection on his personal social platform. Jiang Qinqin wrote in the accompanying article: "Mr. Chen, please find a reliable printing factory next time! Many wrong words in Jianbin's poetry collection I make complaints about my wife's online Tucao's poems, but I'm afraid Chen Jianbin is only one person in the entertainment circle.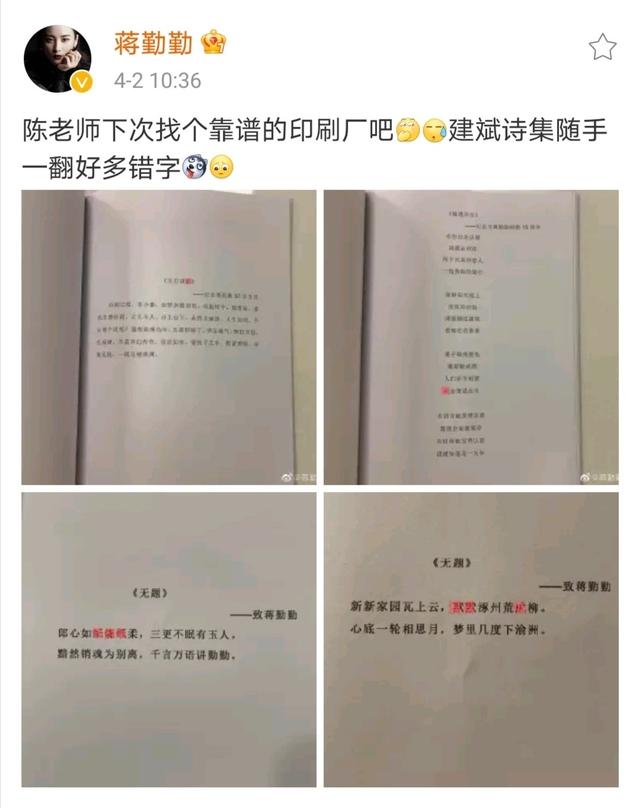 蒋勤勤晒出的这几页里,都是陈建斌写给妻子的情诗。有纪念蒋勤勤35岁生日的,有纪念与蒋勤勤结婚15周年的,还有两首"致蒋勤勤"。诗中将陈建斌对妻子的爱意表述得又含蓄又动人,有对妻子的夸赞,还有在外工作时对妻子的思念。其中最出圈的一首要属《随遇而安——纪念与蒋勤勤结婚15周年》,最后两段被广大文艺青年称赞不已,网友们感慨,没想到陈建斌是一个被演戏耽误了的优秀诗人啊!

In these pages, which Jiang Qinqin exposed, are all love poems written by Chen Jianbin to his wife. Some commemorate Jiang Qinqin's 35th birthday, others commemorate his 15th wedding anniversary, and there are two "to Jiang Qinqin.". In the poem, Chen Jianbin's love for his wife is expressed in a subtle and moving way, with praise for his wife and missing his wife while working outside. Among them, the most important one is "let it be -- in memory of the 15th anniversary of marriage with Jiang Qinqin". The last two paragraphs were praised by the majority of literary and art youth. Netizens lamented that Chen Jianbin was an excellent poet who was delayed by acting!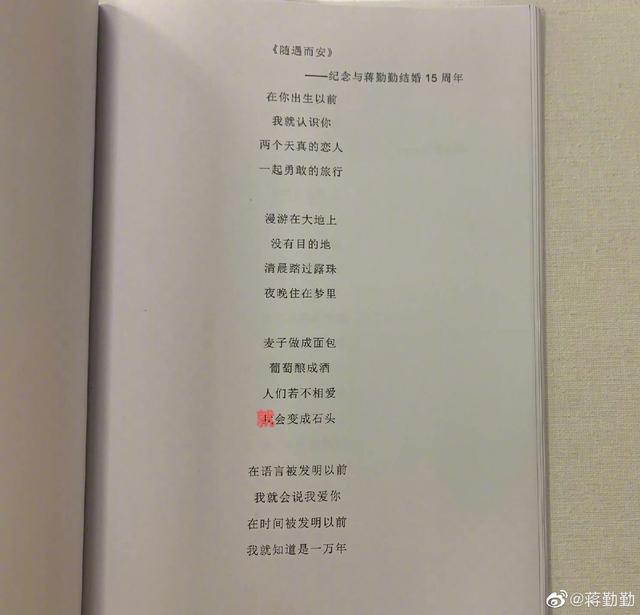 不过原本相当美好的诗句因为印刷质量问题,出现好几个错别字,被蒋勤勤以鲜明的红色字标了出来,于是画风一下子就从温馨转变成了搞笑。网友们也纷纷留言表示,官方吐槽太狠了,给陈老师留点面子吧!不过虽然蒋勤勤貌似在吐槽错别字,但是她选出来的这四首都是老公写给她的情诗,看来蒋勤勤是"醉翁之意不在酒",其实是暗中秀恩爱啊!

However, due to the printing quality problems, several typos appeared in the original beautiful verses, which were marked by Jiang Qinqin in bright red, so the painting style changed from warm to funny. Netizens make complaints about the fact that the official Tucao is too tough. Save some respect for Mr. Chen. But although Jiang Qinqin seems to make complaints about the word "Tucao", the four capitals she chose were poems written by her husband to her. It seems that Jiang Qinqin is "not in wine" but secretly shows love.

说起诗集,其实是因为最近蒋勤勤陈建斌夫妇参加了综艺节目《妻子的浪漫旅行5》。蒋勤勤在出发旅行前,发现行李箱里被人塞了一本诗集,原来是老公陈建斌自写自印的。诗集还被仔细裹上了包装纸和丝带,网友们是隔着屏幕都感受到了他们夫妻之间的浓浓爱意。
Speaking of poetry anthology, it is actually because Jiang Qinqin and Chen Jianbin recently participated in the variety show "wife's romantic journey 5". Before Jiang Qinqin started his trip, he found a Book of poems stuffed in his suitcase. It turned out that it was written and printed by his husband Chen Jianbin. The poetry collection was also carefully wrapped with wrapping paper and ribbon, and netizens felt the deep love between their husband and wife across the screen.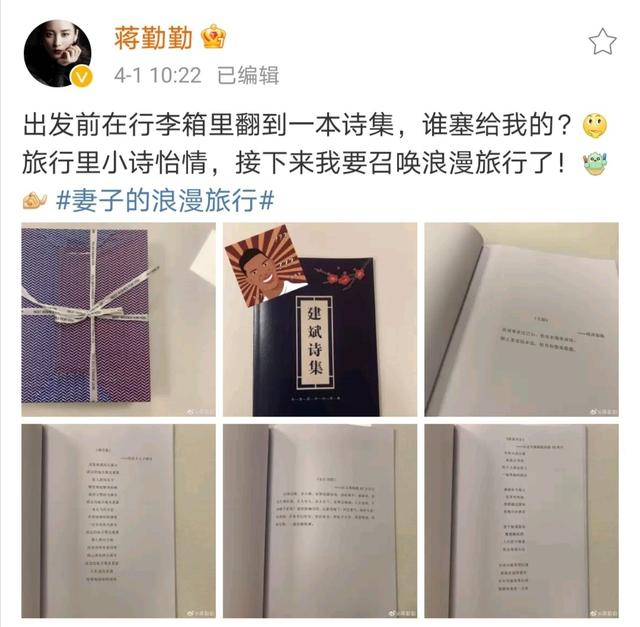 别看如今都是夸赞陈建斌的,其实之前陈建斌和蒋勤勤上过另外一档综艺节目,当时蒋勤勤还怀着孕,大腹便便行动不便,却一直劳心劳力做很多家务。而陈建斌则像他演的"皇帝"一样,当甩手掌柜,似乎完全没有想帮助妻子的意思。节目播出后陈建斌招来了很多骂声,有人质疑蒋勤勤到底婚后生活是不是幸福。如今再看,那是再幸福不过了,果然两口子的事情只有两口子才最清楚啊!
Although Chen Jianbin is praised nowadays, in fact, Chen Jianbin and Jiang Qinqin had been on another variety show before. At that time, Jiang Qinqin was pregnant, with a big belly and inconvenient movement, but he had been working hard to do a lot of housework. Chen Jianbin, like his "emperor", seems to have no intention of helping his wife. After the program was broadcast, Chen Jianbin attracted a lot of abuse. Some people questioned whether Jiang Qinqin was happy after his marriage. Now look at it again, that's the happiest thing. Sure enough, only the couple can know the most about their affairs!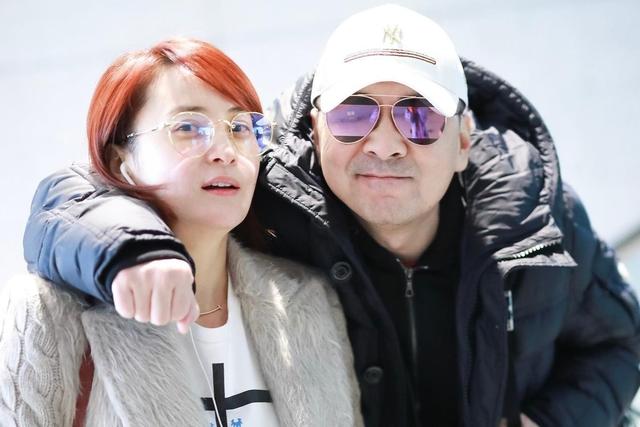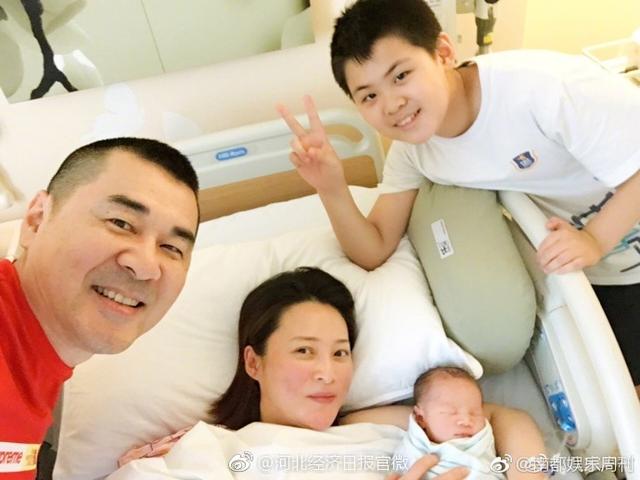 林大师说:陈建斌蒋勤勤夫妻俩都是实力派演员,只是蒋勤勤在婚后就大大减少了工作量,相夫教子的时间比较多。如今两个孩子都大了,蒋勤勤这才慢慢复出,期待她的更多作品!
Master Lin said: Chen Jianbin, Jiang Qinqin and his wife are both powerful actors, but Jiang Qinqin has greatly reduced the workload after marriage and spent more time with husband and son. Now that the two children are older, Jiang Qinqin is slowly coming back, looking forward to more of her works!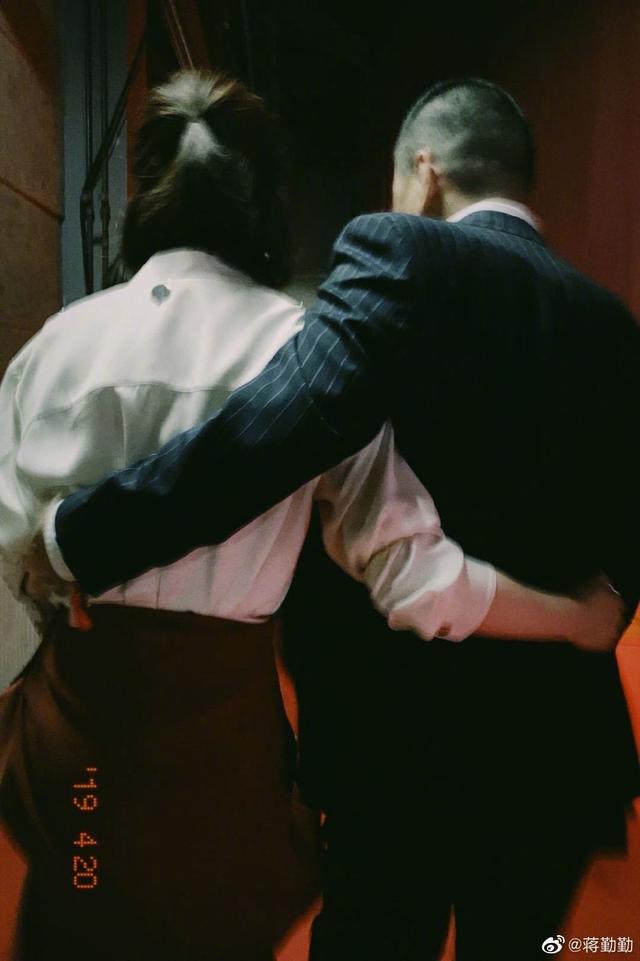 免责声明:文章为林大师娱乐团队原创,禁止抄袭转载,图片来自网络,侵权请联系删除。更多娱乐资讯尽在林大师。
Disclaimer: the article was originally created by master Lin entertainment team. Plagiarism is prohibited. The pictures are from the Internet. Please contact to delete the infringement. More entertainment information is in master Lin.